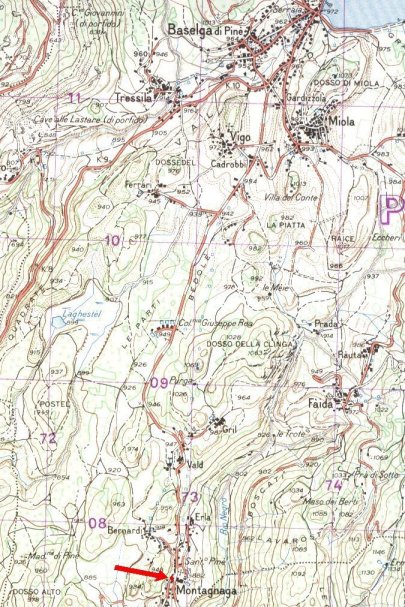 In order to arrive to the "mirage" slope in Montagnaga, from Baselga di Piné you have to go toward Vigo, and than to follow the road until the point indicated in picture 5 by a red arrow (see left).

NB: the chart in picture 5 is taken from the 1:25,000 map of the Baselga di Piné zone, from the Italian Military Geographical Institute (sheet #21, quarter II, orientation N.W.)


In the CICAP site, an excellent article (in Italian) is dedicated to the deceptive slopes phenomenon (in the page, the town is wrongly called Montagnana.)


In 2003 Luigi Garlaschelli and others wrote an experimental thesis about the explanation of the "antigravity hills" as visual illusions; the text can be found at this address.


About the Montagnaga hill again, a whole chapter of a book by Massimo Polidoro and Luigi Garlaschelli (in Italian) reports the measurements they've done there:


Massimo Polidoro & Luigi Garlaschelli
Investigatori dell'occulto
2001 - Ed. Avverbi S.r.l.
ISBN: 88-87328-20-X
(pages 227 and following).


A pretty thorough series of pictures of the little road can be found at this address, while several little movies can be seen on YouTube.